Yosamite Sam Christmas Pictures
Hi I am Yosamite Sam and these are my Christmas Pictures! Check every week from now till Christmas for new pictures!
This here is the long eared crazy rabbit with some presents in his hands.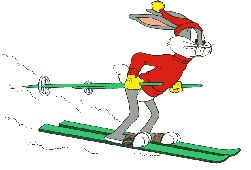 I know this is not exactly a Christmas Picture, but it is a Skiing Picture of that CRAZY RABBIT!
Here is the Christmas Gang of Bugs Bunny, (that crazy rabbit) Daffy Duck, Tweety Bird and Speedy Gonzolas!